IT Consulting | IT Support | Managed Services | New Jersey Computer Support Services
Jan 26 2015
Views 299
Microsoft Surface Pro 3 - A Highly Business Compatible Tablet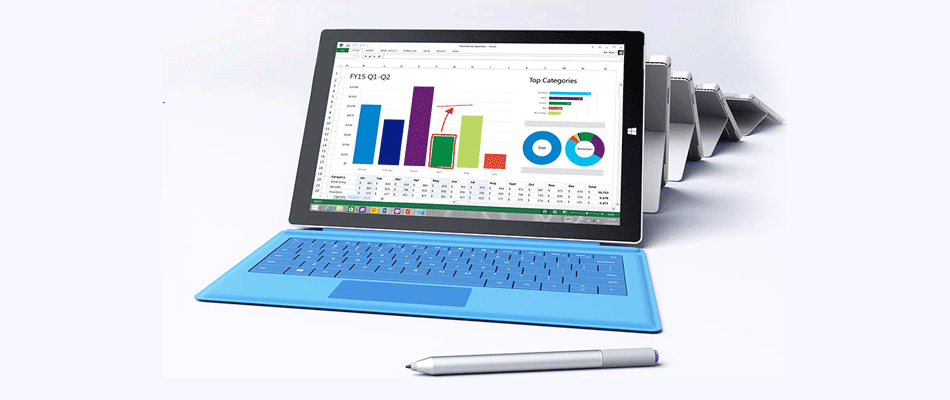 We would like to introduce you to the new Surface Pro 3, which is a new business focused tablet-PC designed by Microsoft. We believe this tablet is a game changer for the mobile business professional since it can replace your laptop while still functioning as a convenient tablet-pc. The Surface Pro 3 includes the full version of Window 8.1 Professional allowing you to run all of your line of business applications including the full version of Microsoft Office 2013. Need to type fast and efficiently on the go? Road warriors can get the optional Bluetooth keyboard and mouse to boost productivity while on the go.
This new Microsoft device is built to take the idea of the tablet to a whole new level and maximize your remote worker business productivity. This new device kicks off the movement for Microsoft to start developing tablets that appeal to the individual in the business world. The new Surface Pro 3 is geared to accommodate businesses of all sizes, from SMBs to large enterprises.
Microsoft Surface Pro 3 Benefits & Features:
Full Windows 8.1 Professional OS which can connect to your windows Domain
Up to 9 hours battery life
Includes a Stylus Pen for quick note taking and more
Easily connection your peripherals with a built in USB 3.0 Port
Guaranteed to run smooth with the windows 10 upgrade.
Includes a built in kick stand for hands free viewing
Includes a HD camera for web-conferencing etc.
Qualifies for EPA "Energy Star Program".
If you have any questions, please feel free to contact us at: (888) 941-7770
Why Choose Us?
Microsoft Certified Small Business and Azure Cloud Solutions Provider
24/7 Managed Services and Cybersecurity Bundled into Support Plans
100% Customer Satisfaction and 5 Star Google Business Review
100% US Based Nationwide Technical Support Team
Download our brochure to learn more about us

Download our company overview for more information about us

Download Brochure
We Offer:
Microsoft Silver Certified Partner
Dynamic Support | Managed IT
Cloud Computing for Business
Our NJ Services Area

Call Us: 201-365-9716